Judith Sands, RN, MSL, BSN, CPHRM, CPHQ, CCM, ARM has over 30 years of experience as a healthcare professional and is a recognized authority in the areas of quality, risk management, and patient safety. She earned a Bachelor of Science in Nursing from the University of Florida and her Master of Science in Leadership from Nova Southeastern University. Judith is a registered nurse, holding state and national certifications in case, quality, and risk management. Judith has been a speaker at various local and national conferences. Her current focus is on ensuring patient safety, care coordination, and bringing dignity to end of life care.
RN – Registered Nurse (North Carolina Multistate)
MSL – Master of Science, Leadership
BSN – Bachelor of Science, Nursing
CPHRM – Certified Professional, Healthcare Risk Management
CPHQ – Certified Professional, Healthcare Quality
CCM – Certified Care Manager
ARM – Associate Risk Manager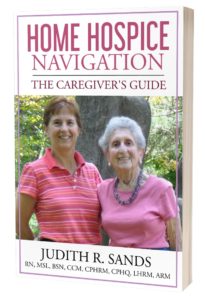 Don't delay, order your copy of
Home Hospice Navigation: The Caregiver's Guide today!