consulting
Complimentary 15-minute call
Complimentary 15-minute get-acquainted call
Complimentary 15-minute get-acquainted call
consulting
Complimentary 15-minute call
Complimentary 15-minute get-acquainted call
Complimentary 15-minute get-acquainted call
What is "Aging-in-place"?
When asked, a majority of individuals express the wish to remain in their homes as they age. To do so safely and successfully requires advance planning. For many people, facing the idea of their own aging and potential loss of independence can be a difficult subject to think about and to plan for. Having this discussion with older family members who are reluctant to address their growing infirmity can also be hard and very stressful for all involved. It's imperative to tackle potential critical obstacles and barriers, such as caregiving needs, home safety and modifications, and financial considerations, before these issues surface.
Aging-in-place well does not happen without substantial thought and analysis; knowing the right questions to ask is key to a successful plan.
Not everyone has a spouse, partner, or child to support them in the aging process. These people are sometimes referred to as "Elder Orphans" or "Solo Agers", seniors living alone with little or no support system and fending for themselves when they are most vulnerable.
Judith is here to assist you with this journey as your personal care transition consultant. Her 30 years of experience as a nurse and expert in the areas of quality, risk management, and patient safety provide a solid foundation for her recommendations. Additionally, she has personal experience as a caregiver for several members of her own family and thus understands and can empathize with the emotional stress that can accompany this process. Her interactive approach to developing a plan for your aging-in-place will provide you with confidence that you are making the right decisions for your future.
When you have the right plan and support system defined, aging-in-place can bring a feeling of calmness. Working with Judith, you can expect a comprehensive approach that addresses your specific needs and values. Guided discussions will be utilized to assist you in exploring options for your care planning and caregiving decisions.
As your personal care consultant throughout the transition, her detailed understanding of aging-in-place issues and resources provides you with confidence and a level of comfort, that you are making the right decisions.
The first step to aging-in-place is to understand the care activities, available services, what they mean, and how they might impact you.
Unfortunately, family members are not always in agreement with the loved one's decisions, or how the designated healthcare proxy is honoring the wishes and treatment needs. Issues can arise with:
Judith is your advocate and her goal is to help make your life easier through her experiences and expertise. Don't put off doing this very important activity. Delaying could mean that others will decide how you will live out your life. Read what people say about Judith.
Complete the form below or call 919-790-8260 to schedule a free 15-minute call and/or learn more about my 90-minute consultation. The cost of the 90-minute consultation is $180.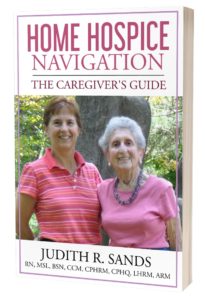 Don't delay, order your copy of
Home Hospice Navigation: The Caregiver's Guide today!