Judith's mom, Anita, lived a rich and full life until her passing at the age of 94. Anita knew exactly what she wanted and did not want for care. Her wishes were communicated and documented well ahead of any hospice or end-of-life home care needs. Despite all the preparation work, nothing could have prepared Judith and Anita for their journey. By sharing their experiences, the hope is that it will make the inevitable journey more peaceful when the time comes.
It is my desire to make the home hospice experience understandable, and the caregiving journey less stressful. The more informed caregiver has more options, to better navigate the home hospice system. May you find comfort along your caregiving experience.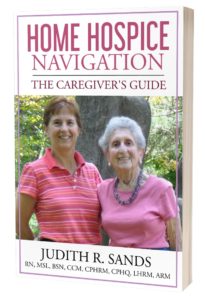 Don't delay, order your copy of
Home Hospice Navigation: The Caregiver's Guide today!