April 16th is designated as National Healthcare Decisions Day: make your wishes known! It's the time to educate the general public and healthcare professionals about planning and preparing for future healthcare decisions; making wishes known. Too often individuals do not want to think about their mortality and fail to outline their advance care wishes; this applies to everyone, not just retirees. On the flip side, there are family members wrestling with how to address the topic with aging loved ones. National Healthcare Decisions Day was established to address the proverbial "elephant in the room," associated with discussing the critically important process of individuals making their healthcare wishes known. The next step is to outline their Advance Directive care choices, for others to follow should they be unable to articulate their wishes.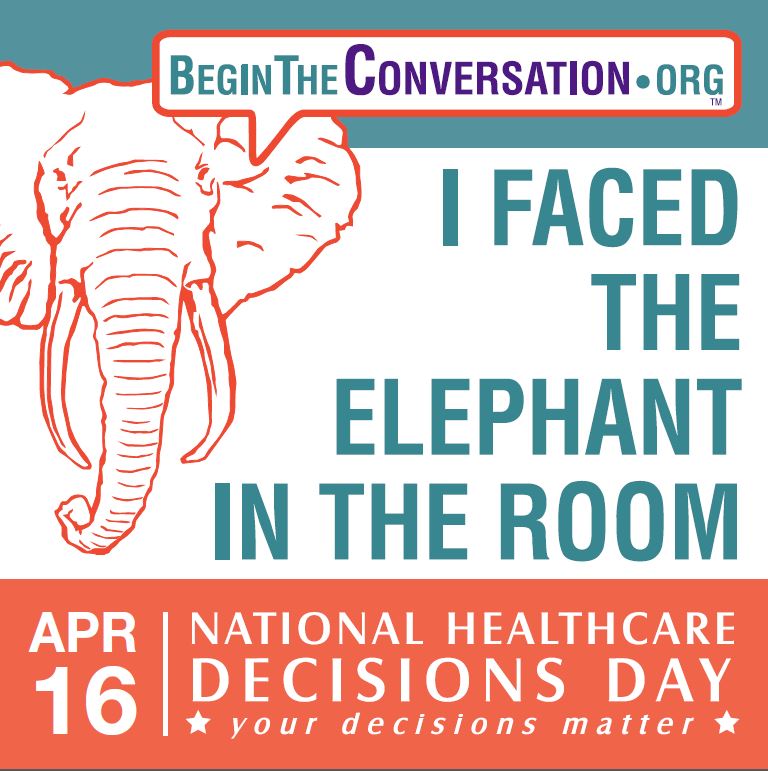 National Healthcare Decisions Day – Finding the right time
During the upcoming holidays, while families and loved ones gather again in person it's an ideal time to discuss healthcare wishes. In many cases, this will be the first time that the in-person gathering may be taking place in two years. It will be more evident that the impacts of chronic illnesses, COVID-19, and decreased social interactions have taken on individuals. This is a great time to bring up the issue of Advance Directives. The conversation opener can be mentioning that National Healthcare Decisions Day is April 16th and ask about who has made their wishes known.

Making your wishes known, speak with the provider
Centers for Medicare and Medicaid Services (CMS) guidelines reimburse physicians or other qualified healthcare professionals for having the face-to-face discussion about the patient's health care wishes if they become unable to make decisions about their care. This may be an alternative starting point for some by including the healthcare provider in the discussion and getting a clearer clinical picture of the loved one and issues that are particular to that individual.
Resources
There are a number of resources to facilitate and help in defining your Advance Directive wishes. Many of these resources are also available in a number of foreign languages.
Advance Directives, health care decisions expressed and documented by an individual, officially serve as the instruction for future events. These documents remove the onus of decision-making from the family and loved ones at the time of a medical crisis. Loved ones should not be left guessing what you might have wanted to be done in a medical crisis. Help your loved ones fulfill your wishes by providing instructions through the completed Advanced Directive.
Taking action
Advance Directives should be updated; it is a good practice to review your wishes annually or after a major change in health status. The revised documents must be shared with the Healthcare Champion (Surrogate), and your physician (medical team). Upload them to a registry if available in your state. Avoid placing Advance Directives in a safe deposit box since they will not be accessible in an emergency if the bank is closed. Consider uploading to your smartphone for backup.
#NationalHealthCareDecisionsDay
#HealthCareDecisionsDay